"Thomas Fuller said, 'Good clothes open all doors.' I say, 'Good tailors have the key.'" Ango Mustapha, Tailor
Ill-fitting clothing not only looks untidy, unkempt, and unprofessional, it feels uncomfortable and can make you feel unhappy, severely affecting your confidence. But getting an outfit to fit perfectly right off the rack is almost impossible. Which is where a tailor comes in.
It's no secret that all the best-dressed people use tailors. And our Sun King Cleaners tailor is one of the best! With over 40 years' experience our dedicated tailor can resize or customize any of your favourite garments so that they look like they were custom made just for you.
Our formula is simple: Fit + Finish = Polished Presentation. To this end, we provide tailoring that is pure genius in its execution and final fit. And to achieve this, we hire only the best in the business: hence our experienced, professional tailor who has been with us here at Sun King, and committed to making you look good, for more than two decades.
We are passionate about: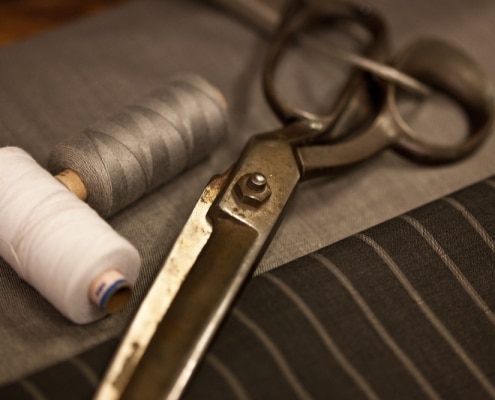 Whether it's as simple as a pair of pants that need hemming, or an extensive remodification of your grandmother's wedding dress to confirm to your dream dress, your vision and your body, we can help! Our tailoring team are passionate about their work and their craft and will not stop until you look your very best.
Our sewing facility is equipped with the finest machinery, luxurious fabrics and a vast selection of fine threads to ensure perfect matches and fixes for your garments.
Our tailoring services include, but are not limited to:
Minor repairs
Major repairs and tears
Minor alterations
Extensive modifications
Complete wardrobe overhauls
Whatever your garment and tailoring or alteration needs are, our tailor and team will work together with you to ensure you look your best.
All custom fittings are done by appointment. We will work closely with you from vision to final fitting to ensure you get the results, and finished garment, that you want from our tailoring services.
A well-fitted garment helps you make your statement to Friend and Foe. Let us help you make that statement a confident, strong, beautifully tailored one which sends a message that you are put together and ready to take on anything the world can throw at you!
Contact our Sun King Cleaners Tailor Today
Call us to schedule your custom fitting and tailoring appointment today: (416) 703-8885. We can work around your schedule and accommodate your needs!
If you have any questions about our tailoring services don't hesitate to call us on (416) 703-8885, or email valet@sunkingcleaners.com today.