Sun King Cleaners has over 40 years' experience in keeping it clean!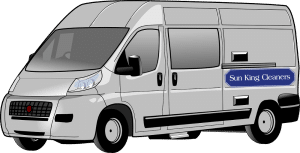 Our business is all things good, clean and fresh, and all these years later we are still fully committed to offering only the best in full-service laundry and dry cleaning services.
Our Difference
At Sun King Cleaners, we are truly passionate about what we do. As a full service garment care specialist, the key to our service lies within that very description: care.
We really do care about every single garment or item you entrust us with. We care about helping you look and feel your best. We care about the quality of our work. We care about your happiness with the finished product. And therein lies our difference.
Our Story
Sun King Cleaners was founded in 1976 by the current owner's father, who named it after his wife: Sun King. The business continues to be family-owned and operated, upholding a long history of family values and genuine concern and care for our customers.
Family doesn't let family go outside looking like a mess. At Sun King, we consider all our clients and customers as family. Our business is all about helping you, our family, look and feel your best.
Our Promise
No detail is too inconsequential, no stain or spot too small, no slipped stitch too tiny to escape our notice. Our attention to detail and the level of care we put into cleaning, repairing and restoring your garments and home and living items is where we shine. Our work is our pride. Your happiness is our happiness.
Our Services
At Sun King Cleaners we offer a full laundry and dry cleaning service for your entire closet: business wear, outerwear, special occasion wear, everyday wear, UGGs, wedding gowns, leathers, accessories and more. We clean what many others cannot!
We also offer cleaning for many of your home and lifestyle items, including hotel-class service on all your bed linens, area rugs, furniture coverings, pillows, cushions, throws and more.
Items cleaned using our services include the following processes and procedures:
Careful assessment of each individual item to determine best cleaning processes, necessary repairs and finishing touches;
Dry cleaning or European wet cleaning;
Detailed pressing
Hand finishing
Top quality individual packaging in acid free tissue and biodegradable bags.
Our dedicated professional tailoring team also offers custom tailoring and alterations to give all your garments that custom-made look to leave you feeling like a million dollars!
Pickup and Delivery – Every Tuesday & Friday

Simplify your life today with our pickup and delivery service!
At Sun King Cleaners we offer you the ultimate in convenience: pickup and delivery for all your laundry and dry cleaning! You choose when, where and what we pick up and deliver, no mess, no fuss, and certainly no dealing with traffic! It's as simple as requesting a pickup/delivery using our online form! Our dedicated, fully bonded valet delivery staff will get back to you right away. Or call us: (416) 703-8885.
Contact Sun King Cleaners
If you have any questions about any of our laundry and dry cleaning services, including pickup and delivery, please don't hesitate to call us on (416) 703-8885, or email valet@sunkingcleaners.com today.